NEWS
Tina Fey: Entertainer of the Year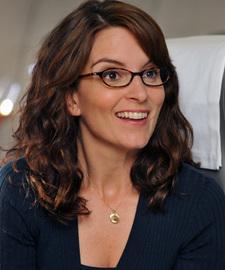 Tina Fey has had quite the year, winning Emmys left and right for her show 30 Rock while making Saturday Night Live fans laugh out loud with her spot-on impression of former vice presidential candidate Sarah Palin.
And for all those laughs she's been voted the Entertainer of the Year by the Associated Press, a title that's handed down by newspaper editors and broadcast producers across the country, and given to the person who's voted as as having had the greatest impact on culture and entertainment in the last year.
Article continues below advertisement
Tina beat out Robert Downey Jr., who came in second, and Heath Ledger, who came in third for his performance in The Dark Knight.
''She simultaneously entertained us with her wit and put a mirror up to the nation during the election and made us think about what was going on,'' says Scott Shive, assistant features editor at the Lexington Herald-Leader. ''She is the epitome of the smart kid coming out on top for once.''