NEWS
Tina Fey Predicts Sex of Her Baby: "It's Going to Be a Werewolf"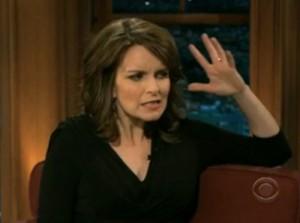 Tina Fey stopped by The Late Late Show Monday to chat with host Craig Ferguson about her pregnancy and the leading man in her life.
Tina is preparing to welcome her second child into the world and Craig began by asking her a series of questions about her growing bump.
Her due date?
"The end of the summer," the 40-year-old actress dished.
"Do you know what it's going to be?" Craig asked.
Article continues below advertisement
"It's going to be a werewolf," she quipped.
The 30 Rock star is already five months along. Tina and her husband, composer Jeff Richmond, also have a 5-year-old daughter, Alice.
"He can cook, he can paint, he's a musician," she told Craig of her hubby.
"This is a man we're talking about?" the host quipped back. "Is he Canadian or something?"
Tina explained he's "part Welsh, part hillbilly."