NEWS
Tina Fey Puts Kid Before Pet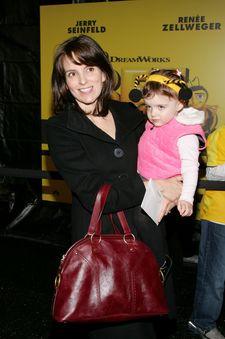 Tina Fey must've missed 2-year-old daughter Alice when she hosted Saturday Night Live this weekend. While mommy hung out with , perhaps daddy Jeff Richmond let their sweet girl stay up past bedtime to catch a glimpse of her hilarious performance.
"Alice is singing a lot and dancing," the 30 Rock star, 37, tells me. "She just discovered raisins. She's eating a lot of raisins."
She adds, "I was never a pet owner — I'm allergic to all kinds of animals — so I didn't even have that middle step of 'you love your dog and your dog brings you joy.' I went right from nothing to this amazing joy of having a child. I didn't take the ramp up by way of yellow lab."
MORE ON:
Red Carpet Confidential
Article continues below advertisement
According to her 30 Rock co-star Scott Adsit, Tina treats Alice like an adult.
"She's very doting and I think she expects a lot from Alice," Scott tells me. "Not in a bad way. I think Alice is up to the task. I think Alice likes her — in a way every kid does their mother — being goofy and silly. It's funny to hear her talk to her. I never hear her doing baby talk to Alice. I always hear her talking to her like she's a peer. That's kind of cool."