NEWS
Tina Fey's Daughter to Meet Justin Bieber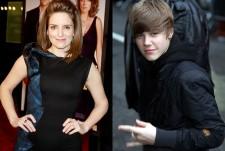 When Tina Fey hosts Saturday Night Live this weekend, her 4-year-old daughter Alice will get to say "hello" to Justin Bieber, who is slated to perform on the show.
"My little daughter will probably like him," the actress, 39, says during her Date Night premiere held Tuesday at NYC's Ziegfeld Theater. "I'm going to bring her to the set."
Still, the perk doesn't make her the coolest aunt in town.
"I only have a nephew, so I think if I had nieces, they would be more excited. He's adorable."
MORE ON:
Red Carpet Confidential
Article continues below advertisement
According to Tina, Justin may appear in a few skits, but she hasn't yet asked him to make an acting debut on the show.
"I met him really quickly at the Kids' Choice Awards," she says. "He's a really nice guy. I really like people who can really, really sing and really play their instruments. I'm excited to see him on the show."
I was inspired to read that Tina only took one month off from Saturday Night Live after giving birth to Alice in 2005. How does she manage her successful career while being a present parent?
"It's a series of weights and pulleys that I use," Tina jokes to me. "It's a contraption. You just take it day-by-day."
I bet hubby Jeff Richmond, whom she wed in 2001, is a big help.
Date Night hits theaters Friday.