NEWS
Tina & Steve Share a 'Date Night' With Oprah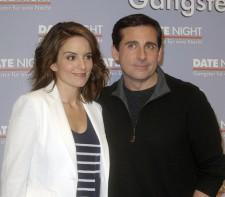 Star comedians Tina Fey and Steve Carell have never actually worked together until their new romantic comedy film Date Night. But the now co-stars told Oprah Winfrey they loved working together and had only nice things to say about each other— for the most part!
OK! GALLERY: TINA FEY & STEVE CARELL SHARE A SMIRK FOR DATE NIGHT
Tina and Steve both got their start in Chicago's Second City, but until now their careers haven't crossed as co-stars.
Article continues below advertisement
"She is a national treasure," Steve said of Tina on The Oprah Winfrey Show. "She's somebody I wanted to work with, and I'm a big fan, and you know my expectations were not only fulfilled, but she went beyond any expectations. She's fantastic."
"He is a comic genius because he is one of the greatest improvisers in the world," Tina complimented Steve back. "The kind of detail and specificity that he brings to his character Michael Scott of The Office — he does stuff that is so painful and embarrassing that you can't help but laugh at it, and it's that he will sink into an awkward and uncomfortable moment so deeply and commit to it so hard. But he also is kind of always playing his character. He's not trying to act crazy. He's just playing his character. His sad, sad, little character."
OK! NEWS: ALEC BALDWIN BOUNCES OSCAR IDEAS OFF TINA FEY
Even though they hadn't worked together, they had an preconceived ideas of what the other would be like.
Tina's reputation for being "the thinking man's sex symbol" isn't one she's accepted, but Steve has.
"I've heard that, and I sort of feel like that's not really a thing, because I feel like even the thinking man wants Megan Fox and Jessica Simpson. Like, the thinking man's like: 'Yeah, get out of here. I see Jessica Simpson."
Article continues below advertisement
"I think she's a sex symbol of the idiot and the thinking man, frankly," Steve stated.
OK! NEWS: VOGUE COVER GIRL TINA FEY — I REPRESENT NORMALCY
While you may think Steve would be outgoing, Tina now knows better.
"If you ever invited me to a cocktail party, I would so go against the image people have of me," Steve explained.
"He's very quiet in real life," Tina said.
"Well, that's another way of saying pretty boring, I think, to meet me," Steve added. "I never really thought of myself as funny, per se. ... I don't sit and watch myself and say, 'Damn, that is hilarious.'"
He may not, but we sure do!
OK! NEWS: STEVE CARELL IS TINA FEY'S MAIL-ORDER HUSBAND
The comedians worked hard to play their date night characters to the script, that is, until they were allowed to ad-lib their parts!
"We always shot the scene as scripted because they are really good scripts. And then Shawn Levy, our director, would say 'Okay, now anybody want to try anything?' And I feel like in almost every scene there's a little something," Tina explained. "Like for example, Steve licking a stripper pole and then immediately getting nauseous. Improvised."
Article continues below advertisement
"My parents are going to be so proud of me," Steve added.
They're co-stars also did a lot of took part in the ad-libbing.
"One of my favorite scenes is the scene with James Franco and Mila Kunis, who play this kind of dirt-baggy couple that we have been confused for," she added.
"They were great; they improvised a lot," Steve agreed. "A lot of those little exchanges resulted from the two of them bringing things in, and we were just responding."
OK! NEWS VIDEO: MILA KUNIS & NICK LACHEY IN JERSEY SHORE: THE MOVIE
While they enjoyed working on the movie, they both agreed you don't get to know a movie cast as well as you do a TV cast.
"That's why it was so lucky that we kind of got along so well from the beginning, because you go to make a movie, it's a stranger, sometimes you spend the first three weeks figuring the other person out, and we kind of fell into a nice rhythm right away," Tina shared.
Tina and Steve's first film together Date Night hits theaters April 9!