NEWS
Tinsley Mortimer Lives the 'High Society' Life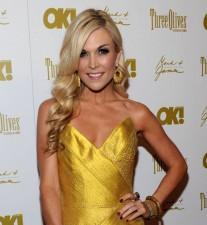 For those who don't live in NYC — so, a large chunk of the country — the social lives of the rich and not as famous are nowhere near as familiar as some of the the city's most recognizable residents like Sarah Jessica Parker. But as the CW's new show High Society reveals in its premiere tonight, the lives of the Big Apple's socialites can be as intriguing as any celebrity scandal. And the queen of that world might just be Tinsley Mortimer.
Article continues below advertisement
Besides Tinsely — a fashion designer who made headlines recently for her much talked-about divorce from high school sweetheart Topper Mortimer — who are these pretty, privileged young things? To answer that question and get a complete character breakdown before tonight's premiere, check out GuestofAGuest.com, a site that covers every socialite slip-up and catfight of the demi monde.
Tinsley sat down with OK! recently to discuss her foray into the reality TV world, answering a few very important question. For example: Is she really friends with people like Paul Johnson Calederon and the devilish Jules Kirby or is it all for show?
"These are all people I've known for a long time like Paul and Jules, who's more of a friend through my sister Dabney Mercer," Tinsley explains to OK!. "We're not saying they all have to be my best friend, but they're friends of mine and I see them out. It gives a little taste of different types of people in the social world in New York."
Growing up in NYC's most elite and pressure-driven circles must have been taxing at times, but Tinsley says the experience has made her who she is today.
"It definitely makes you stronger. For me, having my divorce be in the papers, it's difficult because it's all over the papers and people are weighing in on it," she reveals to OK!. "But I guess you always have to look at the bright side of things. I think it has made me stronger and you learn who your real friends are."
OK! will have more of our exclusive interview with Tinsley Mortimer in next week's issue, so stay tuned!