NEWS
Today Marks 50th Anniversary of the Beatles Debut in Liverpool!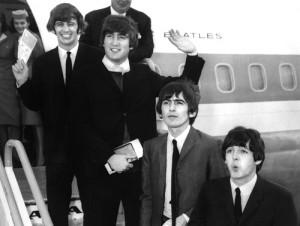 For all you Beatles fans out there today, Feb. 9 2011, holds a historic meaning for the beloved quartet. It marks the 50th anniversary of the group who made their debut on Feb. 9 1961 at The Cavern Club in Liverpool, England.
"The Cavern was sweaty, damp, dark, loud and exciting," frontman Paul McCartney noted in the 1995 book The Beatles Anthology, via Rolling Stone. "As usual, we didn't start out with much of an audience, but then people began to hear about us. We could always entertain them."
Article continues below advertisement
February 9 also marks another big anniversary in band's history. On this day in 1964, the Beatles invaded the music scene globally after their first appearance on The Ed Sullivan Show.
Catch their performance below — if you can handle the shrieking!