NEWS
'Today Show' Drama: Man Jumps Over Barricade on the Plaza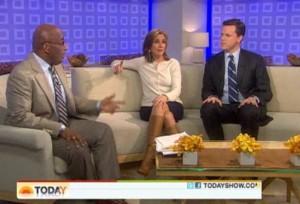 Meredith Vieira, Al Roker and Willie Geist got a rude awakening this morning on the Today Show when a man jumped the barricade while they were reporting on the plaza!
OK! NEWS: OK! OR NOT OK! WITH KATHIE LEE & HODA ON TODAY
Meredith, Al and Willie sat down to discuss the incident safely inside the studio after it occurred. Al explained the man shouted something to the effect that he's "God's gift to music" before jumping the barricade.
Article continues below advertisement
"We're very lucky that we have great security here that's on hand every day, and also the New York Police Department," Meredith said. "So they were able to get him down on the ground very quickly."
OK! NEWS: OK! OR NOT OK! WITH KATHIE LEE & HODA ON TODAY
Megan Kopf, Today spokeswoman, released a statement saying, "The situation was quickly handled by our security and the NYPD."
And Anne Curry later Tweeted about the incident writing, "Drama @todayshow: man suddenly jumped over the plaza guard rail, speaking incoherantly. All ok. Weirded out, but ok."
Watch the anchors discuss the incident below!