NEWS
The Today Show's Savannah Guthrie on Her Love For Downton Abbey, Power Naps and Kathie Lee and Hoda's Wine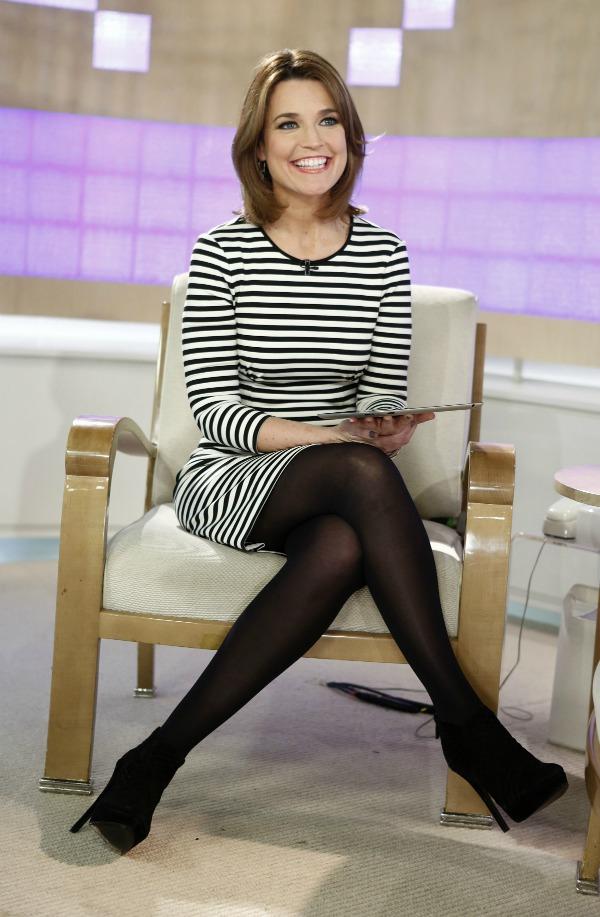 OK! caught up with NBC Today Show Co-Anchor and NBC News Chief Legal Correspondent, Savannah Guthrie at the National Down Syndrome Society's (NDSS) Annual Gala & Auction, at Cipriani 42nd Street in New York City where she was in charge of MC duties! We talked about why the cause is so important to her, her Today Show wardrobe and her favorite moments on the plaza.
OK!: It's going to be a fun event and there is a lot to celebrate and toast to tonight. Have you ever tasted a cocktail from Kathie Lee & Hoda that you've then gone out and ordered?
Article continues below advertisement
Savannah Guthrie: I haven't but you know they're very partial to wine. And I have occasionally dabbled in their wine glasses because it's there. They drink at 10 and at that point my shift's over. And I wake up at 3 in the morning so that's lunchtime for me. But I really appreciate the fact that they drink every day. I'm into that.
OK!: Is there a special event or performance from the Today Show that stands out for you?
SG: There's so many. It's such a great job. I mean the fact that I get to attend a concert every Friday in the summer is pretty amazing. We've had Pittbull on our plaza a lot, I love him. Oh I got to sing "All Night Long" with Lionel Richie! Hoda, Lionel, Al Roker, and I did a great rendition of "All Night Long" and it was great. That was pretty exciting. It was like everything but the conga line. And we danced! Maybe I shouldn't admit this but we were dead sober. It happened at 8:30 in the morning.
Article continues below advertisement
OK!: How do you balance your information intake with things like current events that you need to know, with things like TV shows for fun?
SG: Well the great thing about the Today Show is that we cover news but we also cover culture and entertainment and music and movies. So any of that actually is good preparation for the job. I still follow politics really closely, I used to the be White House Correspondent for NBC so I always wake up and read the latest political headlines and sometimes the blogs. And I love to look at the entertainment magazines. I like to keep my finger on the pulse, but you can't watch everything because there's actually a lot of good tv right now. I love Downton Abbey, I'm trying to talk Matt Lauer and Al into watching it, but I think they think it's a chick show. I'm trying to explain that it will transform their lives.
OK!: What motivates you in the morning when you have to get out of bed at 3am?
SG: Well first of all: coffee. A lot of coffee. I make sure that's the first thing that I do, I head straight to making the coffee. And there's a lot to do, a lot happens over night and I think just knowing that the show starts at 7 and there's no negotiating that. That's really what wakes me up in the morning. I just want to get started on reading all the research. I have a process now. It doesn't mean that the alarm doesn't hurt a little bit. Sometimes it goes off and I can't believe that it's actually 3 o'clock in the morning. I can't say you get used to it, but I'm adjusting.
Article continues below advertisement
OK!: Do you take naps in the afternoon?
SG: Sometimes. Sometimes I work so late in the day that it doesn't make sense to take a nap but if I can get out in the early afternoon, I'm a big believer in the power nap.
OK!: Do you pick out your outfit for the day ahead of time?
SG: No! I keep most of my work clothes at work so that's good but I don't think about it in advance, which sometimes is really obvious. And sometimes on the way in I try to remember what I have or what I wore yesterday and try to think of something to wear. But a lot of mornings I just stand and stare at the closet, pretty much like every woman in America and think, "What the heck am I gonna wear today?"
OK!: Did any of your co-anchors give you any advice about MC'ing for tonight?
SG: You know they didn't, but I know they're very experienced MC's. I think the most important thing about MC'ing is keeping on time, not going on too long, and making sure you set the tone and everybody has a really good time and appreciates the reason we're all here.
OK!: How did you get involved with the foundation and land MC duties for the evening?
Article continues below advertisement
SG: I'm very excited, this is something that's really near and dear to my heart. I actually reached out to this foundation because my uncle Pierce had Down syndrome and he was very close to me, I grew up with him, he lived with my family when I was in high school and college and is just one of the most special people in my life. So when I thought about some of the things I'd like to get involved with, this was at the very top of the list and I just am really proud to be a part of this night and I'm happy that they let me be a part of it.
For more information on the NDSS, click here
What are some of your favorite Today Show moments? Tell us in the comments below or on Twitter @OKMagazine