NEWS
Today We're Loving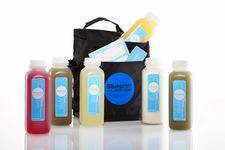 Blueprint Cleanse
Stars like Jessica Szohr are loving the Blueprint Cleanse, a system that gently rids your body of impurities to regain an alkaline balance and normalize digestion and metabolism.
You can pick from three different types of cleanses: the Renovation Cleanse, for those who have never tried a cleanse before; the Foundation Cleanse, to lay the groundwork for getting back on track nutritionally and the next step up, the Excavation Cleanse, to give your insides a serious rest.
Article continues below advertisement
BPC is delivered daily for convenience, and you can even get group rates to cleanse with your friends!
Pick your three or five day cleanse at blueprintcleanse.com to start detoxing now.