NEWS
Today We're Loving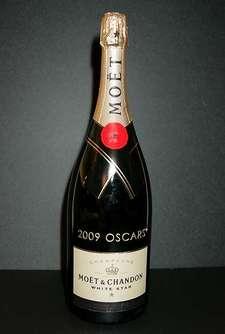 Möet & Chandon Champagne
If your favorite actor or actress seems a wee bit giddy onstage during this Sunday's Academy Awards, they just might have been sipping on some bubbly!
Möet & Chandon is the exclusive Champagne at this year's Oscars, and to help the stars celebrate the big night, they'll be handing out individual mini bottles of the delicious drink before the ceremony.
Want to celebrate like the stars on Oscar night? Try one of these tasty recipes!
Article continues below advertisement
Möet Red Carpet Fizz:
1/2 oz Pomegranate juice
1/3 oz Créme de Peche
1/4 oz Fresh lemon juice
Splash of Campari
Topped with Möet & Chandon
Möet Gold:
1/3 oz Belvedere vodka
1/3 oz Sugar syrup
Splash of Fresh lemon juice
Topped with Möet & Chandon
Möet Envy:
1 oz Kiwi and honey purée
Topped with Möet & Chandon
Stir gently
Möet Ultimate Accolade:
1/2 oz Belvedere vodka
1/3 oz Fresh blood orange juice
Splash of sugar syrup
Topped with Möet & Chandon