NEWS
Today We're Loving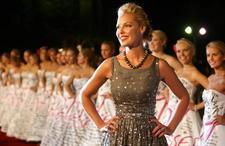 27 Dresses is in theaters today. Be sure to check out Katherine Heigl, James Marsden, Malin Akerman and Ed Burns at their finest.
Ricardo Rojas is a celebrity hairstylist who is the mane man responsible for Natasha Bedingfield's amazing locks. He also has worked with and works with Vanessa Carlton, Leo's girl, Bar Rafaeli and Paris Hilton.
The Sundance Film Festival is well underway in Park City, Utah!
Article continues below advertisement