NEWS
Today We're Loving: Absolut Fast Mary Cocktails!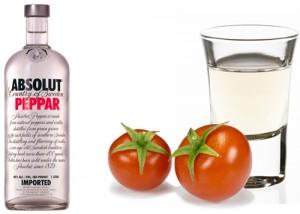 Want to party like Heidi Klum did on Halloween? Try out an Absolut cocktail! Heidi and her guests sipped Aboslut Bloody cocktails at her Halloween party in NYC on Oct. 31 at Lavo.
Guests like Michelle Trachtenberg, Ashanti, Christian Siriano, Gretchen Jones, Jonathan Cheban and Russell Simmons all enjoyed Absolut cocktails!
Make your own Absolut Fast Mary:
1 oz ABSOLUT PEPPAR
1 Cherry Tomato (halved)
Salt
Article continues below advertisement
Pour chilled ABSOLUT Peppar into a shot glass. Garnish with a speared cherry tomato half, dipped in salt.