NEWS
Today We're Loving: David August Custom Designs!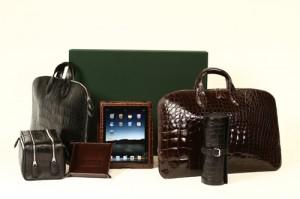 Want to splurge on your man this season? Need the perfect luxury gift? Then David August has you covered. David August is a luxury brand that creates custom, hand tailored wardrobes for the superstars of business, sports and entertainment. And you won't believe his celebrity client roster!
From business bigwigs including Governor Arnold Schwarzenegger to entertainment A-listers such as Sylvester Stallone, Will Smith, Jason Statham, Robert Downey Jr., Terrance Howard, and Les Moonves.
Article continues below advertisement
Clients never leave disappointed. Check out some the latest luxury gifts below and for more on the David August experience, visit HERE.
Gift Items
Alligator skin products are hand cut and stitched in Italy by a small 2nd generation family run company. David August offers both glazed alligator and matte alligator in a full range of more than 20 colors.
All items are made strictly to order and several personal customizing options are available. Items are also numbered and delivered in hand crafted gift box.
iPAD Cover $ 6,900
Soft Lap Top Attache $12,900
Dopp Kit $ 7,800
Watch Holder $ 7,800
Change Tray $ 2,400