NEWS
Today We're Loving: Gap Soft Trench' Flashion Sale for One Day Only!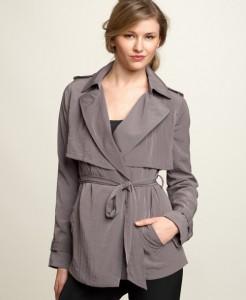 Hot off the presses, or rather hot off the line — Gap is introducing it's first Flashion "It" item tomorrow, the Soft Trench. Stars from Sandra Bullock, Kirsten Dunst and Michelle Trachtenberg have all been spotted wearing Gap, so we're sure they're loving this stylish item as much as we are!.
On March 5, enter Flashion, a world where flash sales and fashion intertwine to give every fashionista the chance for the fabulous steal we know they deserve. Visit a Gap store near you to pick up the Soft Trench, only $50.00, for one day only! Available at all Gap stores nationwide.
Article continues below advertisement
Gap Soft Trench (Available in-stores only, all locations nationwide)
Original Price: $89.95
Flashion Price: $50.00
Date: Saturday, March 5
Time: 10:00AM – 9:00PM