NEWS
Today We're Loving: Halo/Air Salt Rooms!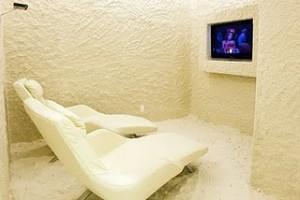 Need a unique pick-me-up? Halo Air is the new hot spot in NYC frequented by celebrities such as Shania Twain. Indulge yourself and benefit from an atmosphere made completely out of salt. It is the first and only spa of its kind in the U.S. Who would have thought that breathing in and absorbing salt would be amazing for your health?
Just ask Dr. Richard Leinhardt, a New York City Plastic Surgeon who also serves as the spa's Medical Director.
Article continues below advertisement
"Medical Science has long recognized the benefits of saline (salt water) therapy for respiratory conditions," he explains. "It is exciting to finally have a facility like Halo Air in the US dedicated to reversing some of the damage caused to our respiratory tract by our polluted environment, by using a controlled climate of inhaled pure micro particles of Rock salt. All natural organic compounds to promote wellness as well as anti-aging just by sitting and breathing!"
One 60-minute treatment at HALO/AIR Salt Rooms is $100. For more information, check out haloair.com.