NEWS
Today We're Loving: Jack & Ginger Cocktails!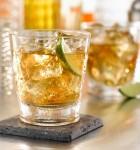 George Clooney has proclaimed his love for Jack Daniel's Tennesse whiskey — professing his affection for the iconic spirit during red carpet interviews — but it's not only something handsome movie star men can get attached to! Why don't we all take another look at Jack Daniel's with a few new, refreshing recipes?
Just in time for summer comes a fresh batch of ways to mix it up while you relax on the porch, have a party with your closest pals or just want to kick back with Jack!*
Article continues below advertisement
Jack & Ginger Ale
1 part Jack Daniel's Tennessee Whiskey
3 parts ginger ale
Combine Jack Daniel's and ginger ale in a glass with ice.
Garnish with lime wedge.
Jack & Canton
1 part Jack Daniel's Tennessee Whiskey
1/2 part Domaine de Canton liqueur
1 part sweet lime juice
Splash of tonic water
Shake Jack Daniel's, Domaine de Canton and lime juice with ice in a cocktail shaker.
Pour in a glass, top with tonic and stir.
Garnish with lime wedge
(OK! reminds you to drink responsibly, and only if you are 21)