NEWS
Today We're Loving: 'Minute to Win It'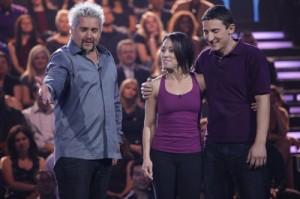 Minute to Win It has quickly become one of the hottest shows of the summer. NBC's hit game show has found fans in celebrities from Kelly Ripa to Anderson Cooper and even featured Kevin Jonas shaking ping-pong balls out of a tissue box attached to his derriere on the show for charity.
"Minute to Win It" appeals to all age groups and has bridged the generation gap in families." host — and chef — Guy Fieri explains. "It's something that translates easily to families — kids, parents, grandparents — everyone gets it! There aren't a lot of things that they can do together and this is one of them."
Article continues below advertisement
Besides its normal home, primetime on NBC, Minute to Win It has become quite the viral phenomenon as well and has inspired at home participants to upload over thousands of videos on YouTube.
Guy says, "with the success of the show and the popularity of the challenges people like to show how successful they are doing the games. People show pictures of themselves doing all kinds of stuff and these folks are doing Minute to Win It."