NEWS
Today We're Loving: Svedka Vodka Hot_Bot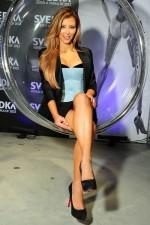 SVEDKA vodka, voted #1 vodka of 2033, recently launched its first-ever tv campaign in March 2010, "R U Bot Or Not?" A playful challenge to hip socializers and vodka lovers everywhere that references its iconic spokes-bot, SVEDKA_Grl.
The "Soul Train meets the year 2033" future/retro themed commercial was directed by Francis Lawrence (whose credits include Lady Gaga's "Bad Romance" video) and features a remake of the Jackson 5 classic song "Dancing Machine." But the reason we're loving on Svedka today is because celebs like Kim Kardashian, Ashley Olsen, Jen Aniston, Ed Norton and Orlando Bloom, are all fans! Soon we just might be hearing them utter the words "That's bot," instead of the old, "That's hot"!
Article continues below advertisement
The next time your out or in the privacy of your own home, treat yourself to a refreshing SVEDKA Hot_Bot specialty cocktail. Check out the recipe below:
Hot_Bot
2 parts SVEDKA Clementine
2.5 parts light cranberry juice
1 part sour mix
Pinch ground ginger
Combine ingredients and shake vigorously. Pour into glass. Splash with soda water. Garnish with orange twist.