NEWS
Tom Cruise Avoids Couch Jumping on 'Oprah'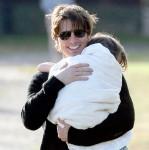 It seems safe to say that Tom Cruise's couch jumping days are over and Oprah Winfrey doesn't need to be afraid any longer! Tom returns to Oprah today along with his Knight and Day co-star Cameron Diaz and while there wasn't much action there was talk of fashion — Suri Cruise's, that is.
OK! GALLERY: SURI CRUISE BRINGS THE GLAM BACK TO THE BIG APPLE
"She likes to dress herself and wears whatever she wants to wear," Tom told Oprah (via E! News).
Article continues below advertisement
"She wants to wear it, she wears it… a girl wants to wear what she wants to wear," Tom explained. "I'm not gonna tell her different. She's got great taste."
Guess that explains how she gets away wearing high heels and no coat!
OK! COVER STORY: AT LAST! A BABY BROTHER FOR SURI!
Also when it comes to celebrity parenting, Tom says the key is to not react negatively to the paparazzi so their "happy, easy, fun girl," follows their lead.
"She just deals with it. We don't make it a problem," the dad said of the way he and his wife Katie Holmes handle the spotlight. "We don't get nervous about it. Katie's a very relaxed person, and you just deal with it."
OK! GALLERY: SURI STEPS OUT IN NYC WITH A SWEET SMILE
The fashion advice may be objectionable but the paparazzi advice sounds pretty good!