NEWS
Tom Cruise Dishes on 'Top Gun 2,' Mission: Impossible 5' and His Dream Co-Star!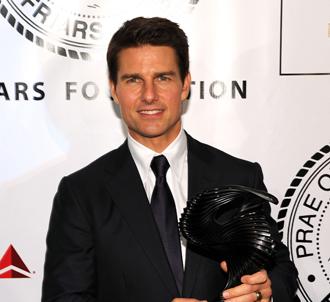 Tom Cruise has been working non-stop, producing and starring in movies, for the past few years. But now that news is out on Top Gun 2, Cruise fans want to know all the scoop, so Tom shared some as he accepted his Friars Club Entertainment Icon Award on Tuesday night in NYC.
"If we can get the script right, we'll do it, and that's what we hope to do," Tom told Access Hollywood on whether a Top Gun sequel will become a reality, adding that Mission: Impossible 5 is in the same boat. "Again, yeah, if I can get the script right, we're going to do it. We're going to do our best."
Article continues below advertisement
OK! GALLERY: TOM CRUISE RECEIVES FRIARS CLUB ENTERTAINMENT AWARD IN NYC
As for how he felt making the movie-musical Rock of Ages, action actor Tom said it was a challenge, but a blast.
"It was fun having the opportunity to do that," he explained. "It was different and I like a good challenge, and it had a great cast."
Speaking of great casts, who would make it on "Tom Cruise's List of Dream Co-Stars?"
"There's a lot of people left who I'd like to work with and people I'd like to work with again and again and again, too," Tom said. "You know, I've known Alec Baldwin for years and Rock of Ages is the first opportunity that we've had to work together, and he's brilliant.
"I tell you, I want to go work with him again — and Paul Giamatti," Tom added. "You know, these actors that I admire and see all their films and their work, so, there's more to come."
OK! NEWS: TOM CRUISE SAYS SURI WAS "TAKEN ABACK" BY HIS ROCK OF AGES LOOK
And, despite receiving the incredible honor of joining Frank Sinatra, Cary Grant and Douglas Fairbanks as an exclusive member in Friars Club Icons club, Tom is extremely humbled.
"When I started making films, I just worked to be competent and to do the best I could," Tom said of being considered an icon. "As I've said, since I was a little kid, I've wanted to make movies and it was a dream of mine, so I didn't know what was going to happen, but I just knew every time out, I'm just going to do the best I can and to learn my craft and to entertain audiences. And that's what I wanted to do and it's been a great privilege of mine to be able to do that for these past three decades now."