NEWS
Tom Cruise Says Suri Was "Taken Aback" by His 'Rock of Ages' Look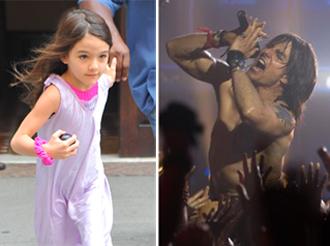 Suri Cruise may love putting on makeup, but when her dad, Tom Cruise, gets all dolled up in eyeliner and nail polish, she's not a fan!
Tom revealed to Ryan Seacrest this morning on his KIIS-FM radio show that Suri was a little freaked out by his rock 'n' roll look for his role as Stacee Jaxx in Rock of Ages.
OK! GALLERY: TOM CRUISE & JULIANNE HOUGH CELEBRATE ROCK OF AGES AT THE LONDON PREMIERE
"When I had the eyeliner on, and the painted nails, she was a little taken aback by that. She was like, 'What is happening to my daddy?'" Tom explained of his 6-year-old daughter with wife Katie Holmes. "She goes to Kate's set and there's the hair and the makeup and it's a very nice set. Then Suri comes to my sets and she's got to wear a hard helmet and there's explosions going off and Dad's all bloody and bruised!"
Article continues below advertisement
Although Tom was more sweaty than bloody on the set of Rock of Ages, the actor still says this role was one of the hardest he's ever had to play.
"This film you saw what we were doing: the dancing, the singing, and that was a new world for me," Tom said. "The training was like I've trained for stunts for my other films."
"We had to find out what worked for this character. We were just playing around with what is the Stacee Jaxx walk, and what is the frame, and I just kept moving. I'm not a dancer…. I had a lot of help and a lot of training," Tom added. "I wanted to play it real, but also we needed the comedy, because he's got to be outrageous, yet I wanted to play it totally straight and have these different moments that evolve."
OK! NEWS: TOM CRUISE SHOWS OFF HIS INCREDIBLE ABS FOR W MAGAZINE'S ROCK OF AGES COVER SHOOT!
Tom revealed that director Adam Shankman, screenwriter Justin Theroux (yup, that Justin!) and friend Cameron Crowe helped out a lot, giving him advice on what worked and what didn't fit the '80s vibe.
"I just wanted to kind of look at the history of rock 'n' roll, and I read the Led Zeppelin biographies, the Mötley Crües of that time; the books on rock 'n' roll, the Rolling Stones, Keith Richards," Tom explained. "I was just trying to immerse myself in the rock 'n' roll world, and just kind of see what their lives are like."
Rock of Ages hits theaters this Friday! Will you see it?