NEWS
Tom Cruise on Travolta Tragedy: "It's Horrific"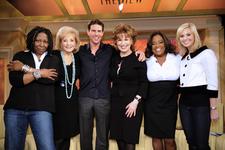 While some might be wondering why Tom Cruise was in NYC taping an interview for The View instead of attending the memorial service today for Jett Travolta, the son of his good friends John Travolta and Kelly Preston, no one can question that the 16-year-old's death has affected the Valkyrie star.
Looking visibly upset and having trouble completing sentences when Barbra Walters asks his thoughts on the Travolta family's tragedy, Tom appears to be on the verge of tears talking about Jett.
Article continues below advertisement
"It's horrific. It's just horrific," he says of Jett's passing last week in the Bahamas. "Here's a man, who are, both of them, doting parents, just wonderful people and they... it's just..."
The father of three also dismisses the critics who say that Scientology prevents its followers from seeking medication and a doctor's advice for phsyical problems, saying, "That just isn't true, it's the opposite," he claims.
Tom can't seem to express how much Jett's death has affected him, adding, "These people are... you all know him and see him and Kelly, and no one... It's just horrible," he stammers. "I remember Jett when he was born, I saw him when he was just a few months old, and John just adored him, both of his children, and Kelly. I don't have the words for it."
Watch a clip of the interview on TMZ.