NEWS
Tom Cruise was Christian Bale's Inspiration for American Psycho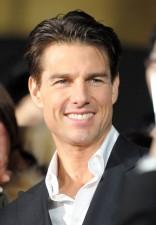 Christian Bale found fame as the '80s killer yuppie Patrick Bateman in American Psycho. Now the movie's director has revealed the actor's muse for the role: Tom Cruise.
"We talked about how Martian-like Patrick Bateman was," Mary Harron tells BlackBook magazine about making the 2000 movie, "how he was looking at the world like somebody from another planet watching what people did and trying to work out the right way to behave."
Article continues below advertisement
The revelation inspired a eureka moment for Christian, as he watched the late night talk shows one night.
"Christian called me and he had been watching Tom Cruise on David Letterman," says Harron, "and he just had this very intense friendliness with nothing behind the eyes, and he was really taken with this energy."
We wonder who else inspired Christian's roles!