NEWS
Tom Cruise, Will Smith Enjoy 'Legend' Status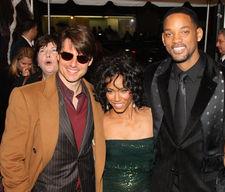 Tom Cruise lends his star power to good pal Will Smith for the
the premiere of his sci-fi flick I Am Legend, held at NYC's Madison Square Garden. The Tom half of Kat greets Will's co-star Salli Richardson with a peck on the cheek and a 'how are you?' before heading into the venue with a huge smile on his face -- and a huge line of photogs hot on his trail.
The V.I.Ps get even crazier than they did when Will arrives. What would Will do if he were the last man on earth? "I just can't imagine what I would hope for if I were the last man on earth," he says. "That's the only reason anyone gets out of bed in the morning – because they hope that today is going to be better than yesterday. Without hope, I can't even imagine."
Article continues below advertisement
How did he get in shape for the role?
"It was mostly a lot of running," Will says. "I did five miles a day and light weight lifting in the afternoon. For the most part, I've been training for the past few movies. As soon as I ran those five miles a day, it all came off."
Jada runs by with the kids. "My wife is leaving me, I've gotta go," Will calls out, hoping to catch up with the fam. As he walks, he says, "I loved working with Willow. She's smart, and she's going to be a great actress." (This is his daughter's first movie!)
MORE ON:
Red Carpet Confidential
Oh, here's Fall Out Boy's Pete Wentz. "What is there not to love about Will Smith?" he questions me. "He was in Hitch, which taught me everything about girls; Men and Black and Independence Day taught me everything I need to know about aliens; he's in Pursuit of Happyness, which taught me everything about being homeless and raising a kid; and he was in Fresh Prince of Bel Air, man. You can't really beat that dude."
Article continues below advertisement
Ice T, who is here with wife Coco, chimes in: "He's a great guy, he's genuine, he's gracious and he's not really happy until he knows that everyone around him is working their way up the way he has." Ice T's favorite W.S. flick: Independence Day.
Hey, Salli, what's the deal with Tom Cruise?
"I actually just met him," she tells me. "I think people get this crazy idea about him but he just seems very normal and very kind. Anyone who is hanging out with Will? If they're that close, he has to be a very kind, nice man because Will and Jada are just very normal, real people, so I don't see them hanging out with anyone that's unlike them."
After the flick, we head to the afterparty held at Hiro Ballroom, which is located in the Maritime Hotel. Good times. How funny that the restaurant next door is called Matasuri … a la Suri Cruise.
I Am Legend hits theaters today.