NEWS
Tom & Katie's Brazilian Getaway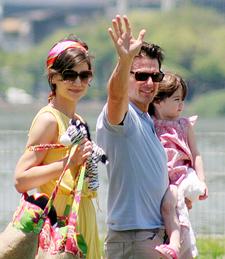 Blame it on Rio – Tom Cruise and Katie Holmes are working on making Suri a big sister! "Tom couldn't keep his hands off of Katie," a staffer at the Copacabana Palace
Hotel in Rio de Janeiro, Brazil, tells OK!. "He was constantly rubbing her belly."
As OK! reported in its Feb. 9 issue, Tom, 46, and wife Katie, 30, are planning to have another baby. And there's no better place to heat up romance than in steamy Brazil.
Article continues below advertisement
"They couldn't stop gazing at each other," a diner at Sushi Leblon tells OK! of the couple's visit to the restaurant on Jan. 31. "It was like they were newlyweds."
To keep things hot, Tom and Katie plan to take samba lessons. "Tom was asking about Carnival traditions, which naturally include dancing," an insider explains.
The happy couple arrived in Rio on Jan. 30, accompanied by daughter Suri, 2, Tom's children with Nicole Kidman, Isabella, 16, and Connor, 14, and two babysitters. Tom was in town to promote his flick Valkyrie.
"They arrived at the Copacabana hotel at 8 p.m. on Friday with a ton of security," an insider tells OK! "Tom made no special requests of the staff – no private chefs, scented candles, or any of that."
The family entourage stayed in the penthouse suite, which costs around $2,500 a night and features a private pool and a terrace. "The hotel is legendary in Rio," manager Gabriela Gurgel tells OK!. "And we are very happy to have Tom and Katie staying here."