NEWS
TomKat, Beckhams, Scarlett Step Out For Met Gala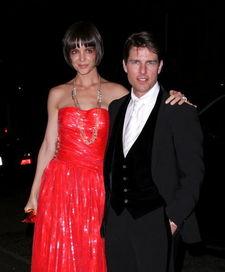 Scarlett Johansson shows off her engagement ring as she strides into the annual Costume Institute Gala during the superhero-themed soiree held at the Metropolitan Museum of Art in NYC.
The 23-year-old beauty is the belle of the ball, and everyone including Jennifer Lopez and Marc Anthony, Eva Longoria Parker, TomKat, the Beckhams and more will congratulate her on the milestone.
Meanwhile, throngs of reporters are camped out on either side of the steps hoping to capture the attention of Hollywood's brightest stars. Tom Cruise waves as Katie Homes beams while Julia Roberts, George Clooney and Sarah Larson make their way into the party.
Article continues below advertisement
How did regal-looking Victoria Beckham pick out her dress?
"Mr. Armani picked it out for me," Posh says, turning around before she goes into the event. "I love it."
Fergie's ponytail is in full swing as Donald Trump (and his hair) plus wife Melania and daughter stroll through.
What superpower would Taylor Swift most enjoy?
"I'd want to see what people were thinking in a subtitle underneath what they were saying," she says. "That would be fantastic."
Diane Kruger's inspiration for her dress is She-Ra, the Princess Warrior. "I feel very sexy." Her boyfriend, Joshua Jackson, longs for the ability to fly. "Just to be able to get around the lines at the airport. It would shave hours off the trip."
When Gossip Girl's Blake Lively is asked what she would do if she lost her Ralph Lauren bracelet, her rep chimes in. "She's very responsible. She never loses things." Blake laughs nervously. Her rumored beau, Penn Badgely, says he needs to draw the line between his personal and private life. (Good move) But he agrees that Blake looks beautiful tonight.
MORE ON:
Helena Christensen
Article continues below advertisement
Ellen Barkin and Lauren Hutton blush as they reveal their secrets to aging well. "I feel like I'm in high drag," Lauren says. Chris Noth expresses an affinity for the Fantastic Four … Hayden Christensen (with Rachel Bilson) gives props to Superman … Amanda Peet is loving The Hulk … Mischa Barton's favorite is Wonder Woman … and Emily Mortimer goes for Flash Gordon. "He's the campest," she says. Gossip Girl's Ed Westwick prefers Batman. "He's the only superhero that actually exists."
Helena Christensen can't wait to go inside.
"There's something very magical about tonight," she says.
Pick up the OK! on newsstands now for more coverage of the Costume Institute Gala. Reese Witherspoon and Jake Gyllenhaal/Ready To Wed is the cover line.