NEWS
TomKat's Star-Studded Housewarming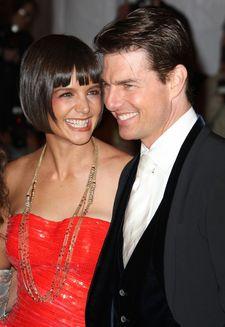 What better way to christen your new home than to throw a party for 250 of your closest friends?
That's precisely what Tom Cruise and Katie Holmes did Saturday night, hosting a giant A-list bash at their new Beverly Hills mansion.
Although the exclusive invite said 8:30 p.m., most of the invitees arrived fashionably late, pulling up just before 9 p.m to a valet service outside the iron gate opening into the long driveway curving up to the Cruise's $35-million estate.
Article continues below advertisement
Guests included movie industry execs, Scientology dignitaries and celebrities. Eva Longoria Parker, Kimora Lee and Djimon Hounsou, Tobey Maguire,Rita Wilson, Oprah Winfrey,Gail King, Kyra Sedgwick, Kirstie Alley and Victoria Beckham-who arrived without hubby David Beckham--were among the first to arrive.
Also in attendance--Cruise "frenemy" Brooke Shields, Jennifer Lopez and Keri Russell.
Eyewitnesses tell OK! that the Cruises pulled out all the stops for the party, enlisting good pal and renowned chef Wolfgang Puck to cater the event. From the street, the sounds of horns pierced the warm night air as a full orchestra played big-band music throughout the night, at one point striking up a rendition of the Mission Impossible theme song.
A source inside the party tells OK! that guests were treated to a formal sit-down dinner, which took place outside under a giant black tent covering the entire front of the estate alongside a large rectangular fountain. Behind the main house in the yard, an outdoor lounge offered comfortable sofas.
TomKat picked the right weekend to throw a party. Katie is about to make her Broadway debut in Arthur Miller's All My Sons, and has reported plans to hunker down in the Big Apple for the duration of the play.