NEWS
Tommy & Pam Together Again!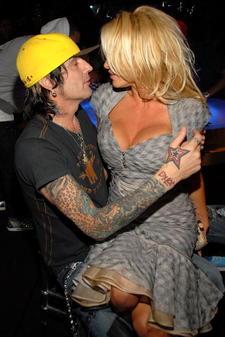 It's hard to keep track of how many times Pamela Anderson and Tommy Lee have broken up, only to rekindle their relationship at a later date. And if you listen to the Motley Crue drummer, the love yo-yo is on an upswing for these two.
"We've only given it a try 800 times — 801, here we go!" he jokes to Rolling Stone, confirming that he and the Baywatch babe are indeed a couple once more.
According to Tommy, his ex-wife, who was most recently — and very briefly — married to Vegas scene-maker Rick Salomon, has moved into his home with the two sons they have together, Brandon, 12, and 10-year-old Dylan.
Article continues below advertisement
"It's awesome, man," he says. "It's definitely working. You can tell on the kids' faces — they're happy when we're together."
Tommy and Pam were married in a surprise ceremony in February, 1995 and divorced three years later. The blonde bombshell was also wed to singer Kid Rock — for about four months.
Let's hope this time, these two are in it for the (relatively) long haul!