NEWS
Toni Braxton Explains Name Choices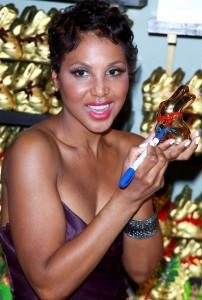 Toni Braxton was ahead of the curve when she named her sons Denim and Diesel.
The Braxton Family Values star, 44, explains the origin of the monikers and how she feels about the unique names she gave her sons, who are now 9 and 8 respectively.
"My son Denim, it was supposed to be spelled D-e-n-h-a-m, like Oldham, but when we were in the hospital, in Atlanta, the nurse said 'how's little baby Den-ham?' So we started spelling it like the jean. I changed it to the jean. Some people say it's French, and some people say it's English. Diesel – my husband is half German, so Diesel is after, what is it, Rudolph Diesel, who did the Diesel engine? Diesel is a German name."
Article continues below advertisement
What is it like having kids with unique names?
"I think names can define you," she tells me. "I think it's important that kids have their own identity, and I think this is a decade of having freedom."
The Grammy-winning singer, who also competed on Dancing With The Stars, is featured in What I Ate Today in the issue on newsstands now.
When her boys are feeling frail, she has a special solution.
"I teach my sons that popsicles are our friend," she says. "Every time they have a cold or they're feeling sick, I tell them they have to have a popsicle. What I've done is if they have a fever, it lowers their fever. Whenever they get sick, they're like 'mom, I need a popsicle.' So it's a good thing."
Toni doesn't believe in restricting her diet.
"I think it's important to eat well, but I also think it's important to eat bad just as much. So I recommend in between all the veggies and the fresh fruit and grains, to have a nice slice of pizza and a great, thick, juicy burger. But in moderation."
Here's my pic with Toni:
Toni, whose youngest son is autistic, hosted the LIndt Gold Bunny Celebrity Auction in support of Autism Speaks. Pick up the OK! on newsstands now to get Toni's What I Ate Today feature. The cover line is "Kim's Wedding Surprise: I'm Having a Baby!"