NEWS
Tony Goes It Alone?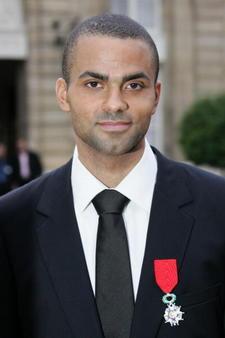 It has not been a good 48 hours for Tony Parker. Not only have been haunting his marriage to actress Eva Longoria, but the down-on-his-luck basketballer can't even play the game that's made him famous, as he's been sidelined with what is believed to be a sprained ankle.
And it probably doesn't help that his wife of only five months, who has historically been a courtside fixture at Tony's games — complete with her customized #9 shirts and jeans — was not right by his side Thursday night while the 25-year-old MVP sat all alone watching his team lose to the Los Angeles Lakers.
Article continues below advertisement
"Tony looked sad and distracted," one witness among the sellout crowd of 18,997 at L.A.'s Staples Center tells OK!. "He could have been sad that he wasn't able to play, but to me he seemed more distracted than that. He appeared to almost not be paying attention to the fact his team was losing."
So where was Eva? Surprisingly, OK! has learned that the actress was actually at the Staples Center during the game! According to an eyewitness, the Desperate Housewife arrived at the arena's VIP entrance with pal Sheryl Crow only minutes before tip-off. As she entered, Eva did manage to sign one autograph for an adoring fan, but didn't seem her usual chipper self. "She had her head down the entire time," the witness tells OK!. Eventually, Eva did make it to her seats, where she sat with pal Mario Lopez and Entourage star Kevin Connolly.
And while the couple managed to sneak out unseen from the Staples Center, celebrity spotters at hot L.A. eatery Katsuya tell OK! that the pair dined together there until just after midnight, and they both appeared to be in improved moods. "They were happy looking," says the source. "Smiling and holding hands."
Earlier in the day, Eva appeared unfazed by the recent negative news, waving and smiling to photographers as she walked to and from her trailer on the set of her shoot for her latest big-money ad campaign for Loreal.