NEWS
Tony & Jessica's Dallas Dinner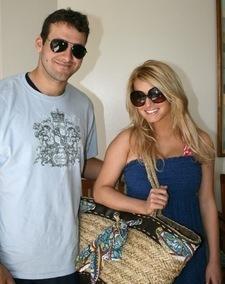 Are they or aren't they?
A week after jetting off to Cabo San Lucas without Tony Romo (and with her parents, natch), Jessica Simpson reunited with her Dallas Cowboy in, where else, Dallas.
The on-again-off-again twosome holed themselves up in a corner booth at N9NE Steakhouse in Dallas' Victory Park on Saturday, the Dallas Morning News reports.
Enjoying a hearty meal of steak (her) and burger (him), Tony and Jess kept to themselves, but did acknowledge Tony's teammate, Isaiah Stanback, a receiver/kick returner, who was also at the establishment with his parents.
Article continues below advertisement
As they exited the restaurant, the lovebirds paused to greet another diner with a baby girl in tow.