NEWS
Tony Parker Hoops It Up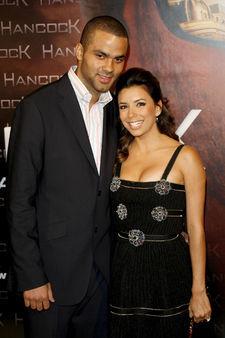 calls me pegged to NBA Live 2009. I'm told he'll talk about sports and life with his own personal Desperate Housewife, Eva Longoria.
The 26-year-old French export is on the cover of the Xbox game.
"I feel more like it's a great honor," the San Antonio Spurs superstar tells me. "It's a great honor for me to be on the cover of a game, especially coming from Europe and being the first European on the cover. It makes me very happy." He continues, "Growing up, I played that game all the time. That was the only way. In France, we try to have an NBA experience besides watching the game at 3 in the morning. I'm very excited and I can't wait to start. It's the best basketball game you can have. It's the game that's closest to what's happening in real life."
Article continues below advertisement
How does wife of one year Eva support him in his basketball career?
"She's been great."
In his free time, Tony tells me he likes to do "nothing. I like to stay home and spend time with my wife."
And, his biggest splurge?
"Biggest what? What's splurge?"
I explain.
"Something for Eva."
Hm, like what?
"A lot of stuff."
After a few more questions get lost in translation, I ask him what more he hopes to accomplish.
"Winning more championships," he tells me.
We'll be rooting for you, Tony.