NEWS
Tony Romo and Chace Crawford's Thanksgiving Bromance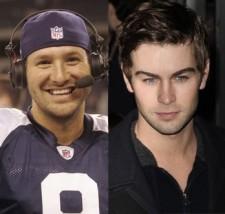 Is Chace Crawford, trying to make Ed Westwick jealous? The Gossip Girl hottie swapped his regular bro for Dallas Cowboy hunk Tony Romo, who joined him for a post-holiday celebration in Las Vegas.
In fact, the pair are practically family, since Tony, 29, is dating Chace's little sister Candice, a Texas-based beauty queen.
But there was no sign of the 2008 Miss Missouri at the Hard Rock Hotel & Casino, Friday Nov. 27. Instead the guys were joined at the tables by Dallas Cowboy's wide receiver Miles Austin. The trio were later spotted partying at the hotel's nightclub, Body English.
Article continues below advertisement
Jessica Simpson's ex could afford to take the weekend off after the Dallas Cowboys' victory over the Oakland Raiders on Thursday.