NEWS
Top 10 UnSexiest Men Alive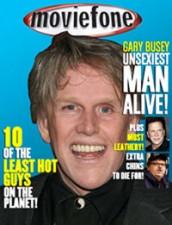 Instead of celebrating Hollywood's sexiest leading men, Moviefone has created a different list of well-deserving males — The Top 10 UnSexiest Men Alive. While the following group may not be the most attractive, they have all reached star status in one way or another.
10. John C. Reilly: The funnyman's sense of humor may win over the ladies, but not his good looks. Will Ferrell's frequent co-star holds the 10 spot in Moviefone's list.
Article continues below advertisement
9. Joaquin Phoenix: Joaquin was sexy in his Golden Globe-winning portrayal of Johnny Cash in Walk the Line, but since his lack of shaving and debut in the music industry as a rapper, his heartthrob status has diminished. Not to mention his wacky Letterman interview.
8. Mickey Rourke: He may have made a comeback with his Oscar-nominated performance in The Wrestler; however, Mickey Rourke's looks have faded since his young Hollywood days in films like 9 1/2 Weeks.
7. Michael Moore: This acclaimed documentary filmmaker, is not known for his manly physique.
6. Randy Quaid: "He may have herded sheep on Brokeback Mountain but there's no way Quaid was getting invited in that tent!" Moviefone's Ronnie Koenig quips about the number 6 spot in her list.
5. Philip Seymour Hoffman: No one can take away Philip's Oscars or extensive acting repertoire, but the brilliant actor has never reached heartthrob status.
4. Paul Giamatti: Another brilliant actor, whose looks are far from desirable.
3. Justin Long: Drew Barrymore's on-again, off-again boyfriend is definitely not known for his sex appeal!
2. Kevin Spacey: Little is known about Kevin's love life. The talented actor lacks sex appeal.
1. Gary Busey: The Fear and Loathing in Las Vegas star looks like a crazy man, and tops Moviefone's list. With his huge teeth and crazy hair, Gary is a fascinating and outrageous character.