NEWS
Top 11 Unfortunate Tiger Woods Ad Taglines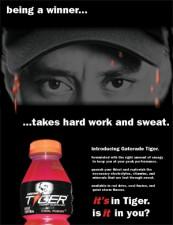 While Tiger Woods endorsers are pulling down their ads of the famous golfer, we've realized that some of the previously inspirational taglines have new meaning now. Here is a list of the eleven most unfortunate Tiger taglines!
1. "It's in Tiger. Is it in you?" — Gatorade Tiger
Wow... It seems like the answer to this question is increasingly, "yes."
2. "Have You Got the Balls? — ad for Tiger Woods PGA Tour 2005 video game
Article continues below advertisement
Maybe not, Tiger, but we're pretty sure Elin's got you by yours.
3. "It's what you do next that counts." — Accenture
Tiger must have misread this slogan as "It's who you do next that counts." Oops.
4. "Strategy 80%. Exit Strategy 20%" — Accenture
This doesn't really work when that exit strategy is blocked by an irate, golf-club wielding wife.
5. "The road to high performance isn't always paved." — Accenture
And apparently it dead-ends into a mailbox.
6. "Being a winner takes hard work and sweat." — Gatorade Tiger
Looks like being a loser is equally difficult and sweaty.
7. "To accomplish more, sometimes you need to see less." — Accenture
Unfortunately, Tiger lived by the "less is more" motto.
8. "Go on. Be a Tiger." — Accenture
Umm... Don't you mean "Be a Cheetah"?
9. "It's not a setback. It's a test." — Accenture
Yes, it is a test — and Tiger is failing miserably.
10. "Just Do It." — Nike
And he did. Several times. To several different women. They should put his face on their sneakers — would sell millions.
11. "What are you made of?" — Tag Heuer
Hopefully something different...