NEWS
TORI AND DEAN, KATHY GRIFFIN and BROTHERHOOD TO RETURN!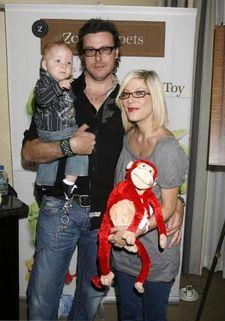 Three is the luckiest number for Oxygen celebrity reality stars Tori Spelling and Dean McDermott and Showtime's Brotherhood. Both shows have been picked up for a third season, their respective networks announced today.
The former 90210 actress, her hubby and baby will be returning to L.A. this summer on Tori and Dean... Still Inn Love, while Brotherhood, the gripping series about two New England-based brothers on the opposite sides of the law, will produce eight new episodes for its third season run.
Article continues below advertisement
Looks like Kathy Griffin will do whatever it takes to keep her celebrity going, including another round of Kathy Griffin: My Life on the D-List, which Bravo has picked up for a fourth season.