NEWS
Tori "Excited" About Working with Shannen Doherty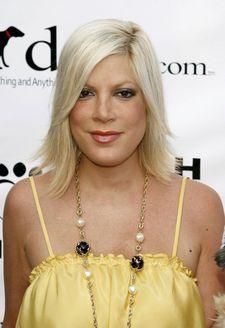 Tori Spelling has several new things on her plate at the moment. Besides spending time with her two children, Liam and newborn daughter Stella, she is also gearing up to reprise her role on the '90210' spinoff.
OK! caught up with the actress at the Much Love Animal Rescue's 2nd annual Bow Wow Wow! Charity event held at the Playboy mansion, where she told OK! how thrilled she was to hear that old pal Shannen Doherty had joined the new '90210' cast.
Article continues below advertisement
"Yes! Exciting," she said. Regarding whether she'll have scenes with Doherty, Tori said, "Hopefully later in the season, I hope so. I've talked to the producers about it. They're all really excited."
Another new thing happening for Tori is her "Mimi LaRue Fund", which will help sick and injured animals in conjunction with Much Love. Tori's beloved pug, Mimi LaRue, died last month after battling several ailments.
The actress and her husband Dean McDermott have several dogs, two of which she says she adopted from Much Love, and who her kids love to play with.
"They're great," she says. "They're very tolerant of Liam. He pulls tails and stuff and they're fine."