NEWS
Tori Feels "a Bit Clueless" in Family Feud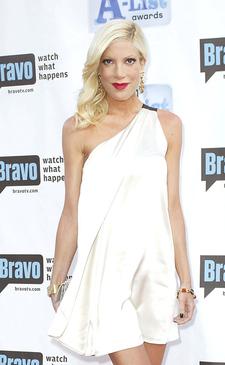 Can a letter posted on the Internet fall on deaf ears? Maybe blind eyes, as is the case regarding Candy Spelling's impassioned plea to her daughter Tori Spelling for a family reunion.
Tori admits to Extra that she hasn't seen the missive, posted on Candy's site, which reads, "Call me, write me, text me…I want a relationship with you and my grandchildren."
"I haven't seen it. I feel a bit clueless," Tori admits today as she unveils her new book, Mommywood. "She has not contacted me. And she's welcome to contact me. Privately," the mom of two adds of her mother's wish to resolve their longstanding feud.
Article continues below advertisement
Tune in tonight to Extra for more of Tori's interview.