NEWS
Tori Spelling: 90210 is "Home"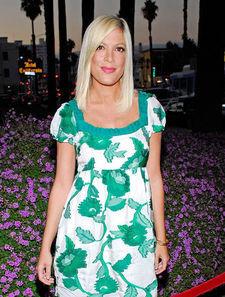 Returning to her old posh 90210 zip code is like going "home" for Tori Spelling.
"I chose to go back to 90210 because it's home," the actress tells OK! of joining the much-anticipated CW spinoff. "We have such a loyal fan base that I owe everything to our fans. I really felt the need to give back to them and give them Donna again and she where she is now, and I'm really excited to play her again."
The actress, who's expecting her second child any day now, wasn't shy about getting back into Donna Martin's shoes either, publicly announcing her hope to reprise her most famous role when the spinoff was confirmed last month.
Article continues below advertisement
Along with Jennie Garth, the two will be recurring special guest stars on the series, with Donna being the "It" designer of the moment.
"Donna Martin will be the owner of one of the coolest stores in Beverly Hills, a shopping hot spot that is frequented by the new cast of characters," the CW said in a statement.
Though Tori, 35, won't be in every episode of the show, she assures fans can catch behind-the-scenes pieces of it on her Oxygen reality series, Home Sweet Hollywood.
"As our show covers everything in our lives, I'm sure something will be in," she says.