NEWS
Tori Spelling Comes Clean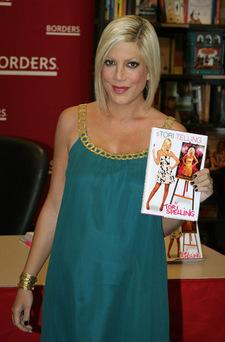 This morning on Good Day New York, , who just released her tell-all memoir, Stori Telling, sat down to talk openly about everything from her career and family to reports of plastic surgery.
"Everyone's written false stories about me my whole life," explains the former 90210 star. "So I thought I might as well tell true ones."
However, over breakfast at NYC restaurant Amalia with Good Day's Anne Craig, the daughter of legendary TV producer Aaron Spelling went on the record to confirm that she's had plastic surgery, but nowhere near as much as has been reported. "I had my nose done," the actress admits. "And my boobs."
Article continues below advertisement
Tori also opened up about her infamously rocky relationship with mom Candy Spelling. "We are talking. Our relationship is fine," the pregnant star explains. "Our relationship is focused on Liam. She's a great grandmother." And yet, Tori says that she did not talk to her mother about Stori Telling: "I didn't really discuss the book with anyone but Dean," she says.
The actress, who was raised in one of the largest private homes in the country, also claims that she found herself in hundreds of thousands of dollars of credit card debt at one point in her life. "I grew up in a very luxorious, excessive childhood and lifestyle, but once I started working on 90210 I started paying my own bills," she explains. "I never took a penny from my parents from that day forward... I was never taught about money or how to handle money, and it was like all of a sudden 90210 ended."