NEWS
Tori Spelling's Happy Return to 90210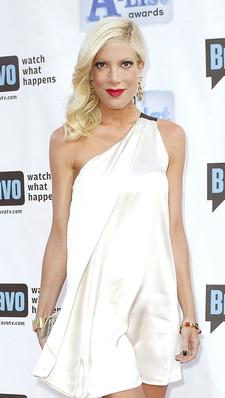 They finally let Donna Martin graduate from Beverly Hills high school, and now Tori Spelling's character is a fashion designer living in Japan, back in the popular zip code to visit Kelly and Silver in an episode airing April 14 on 90210.
"At first I was really nervous," Tori tells Entertainment Tonight in an interview airing at 9 p.m. tonight. "It was like being the new kid at school, then halfway through my first day it felt oddly familiar!"
Article continues below advertisement
Co-star and fellow Beverly Hills 90210 alum Jennie Garth is happy to have her old friend back as well.
"It's great. The two of us just click," reveals Jennie. "We have the easiest relationship. I thank my stars for her. I have been waiting and waiting and praying that it would happen and now she's here!"
Tori adds, "We've stayed friends, so wasn't hard to get back into the groove."
Amidst controversy about the current young cast and their super skinny figures, Tori and Jennie both weigh in on the media scrutiny.
"There are two things that aren't polite to talk about with a woman: her weight and her age," says Tori.
Jennie adds, "Leave us women alone, okay? Get a life. Way to drive a lady to an eating disorder!"