NEWS
On The Tour Bus With Rascal Flatts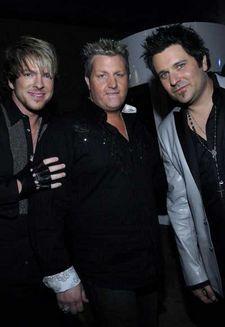 Rascal Flatts roll in to play NYC's Madison Square Garden tonight.
"When we leave the city around one or two in the morning – musicians like us are night owls, so it takes awhile for us to wind down after we get off the stage and leave the city – we write songs," guitarist/vocalist and dad-to-be Joe Don Rooney tells me.
What's life like on the bus for the trio, which also includes singer Gary LeVox and bassist/vocalist Jay DeMarcus?
Article continues below advertisement
"We all three still ride together," Joe Don tells me. "A lot of bands at this point get separate buses. I understand sometimes why, especially if you want to bring out family. But we decided to pimp this thing out. We all threw money together and got this bus. From front to back, it's got everything you need. Sliding doors, a little bunk space – four different bunks because all three of us ride together and sometimes a manager might come out. We might bring a friend out."
He continues, "When you walk toward the back, it's got a huge walk-in shower with a steam room. We've got three separate closet areas, three separate vanity mirrors so we all three can get ready before the show. It slides out the back and slides out the front, so this thing is like a house on wheels. When it's parked, this thing looks huge inside. Of course, at night when they tuck the sides back in, it gets pretty small again. We've got a flat-screen TV, we've got refrigerators you pull out, we've got it all. We're lucky boys. This is a cool bus. It feels really good to be on this bus. It feels like home."
Thanks for the tour – looking forward to the show.