NEWS
Tracy Morgan Allegedly Says He Would "Stab" Son if He Were Gay in Homophobic Standup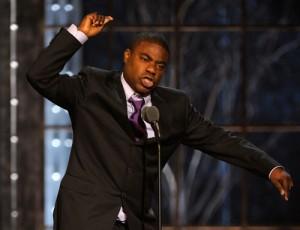 Tracy Morgan took his standup routine a bit too far. The comedian is receiving backlash for his latest comedy show in Nashville that included a pretty serious homophobic rant, which was no laughing matter.
Audience member Kevin Rogers attended Tracy's standup show last Friday and turned to his Facebook page to express his concern about the comedian's homophobic remarks, which allegedly came across as a dead serious, not humorous, attack on gay men and women.
Article continues below advertisement
In a Facebook note titled "WHY I NO LONGER "LIKE" Tracy Morgan - A MUST READ," Rogers writes:
I figured at some point the gay jokes would fly and I'm well prepared for a good ribbing of straight gay humor. I have very thick skin when it comes to humor; I can dish and I can take. What I can't take is when Mr. Morgan took it upon himself to mention about how he feels all this gay s*it was crazy and that women are a gift from God and that "Born this Way" is bulls*it, gay is a choice, and the reason he knows this is exactly because "God don't make no mistakes" (referring to God not making someone gay cause that would be a mistake).
Kevin continues to detail shocking moments from Tracy's standup routine, and alleges that the comedian went as far as to say he would kill his son if he were gay.
He said if his son that was gay he better come home and talk to him like a man and not he mimicked a gay, high pitched voice or he would pull out a knife and stab that little N (one word I refuse to use) to death.
Article continues below advertisement
Kevin also alleges in the note:
He took time to visit the bulls*it of this bullying stuff and informed us that the gays needed to quit being pussies and not be whining about something as insignificant as bullying. He mentioned that gay was something kids learn from the media and programming, and that bullied kids should just bust some ass and beat those other little f*ckers that bully them, not whine about it.
Tracy's rant reportedly ended with a cruel, harsh statement about the gay community.
Tracy then said he didn't fucking care if he pissed off some gays, because if they can take a f*cking dick up their ass... they can take a f*cking joke.
Tracy's reps reached out to Unicornbooty.com, via the Huffington Post, saying, "There is no comment, thank you for your inquiry."
Do you think Tracy went too far? Sound off in the comments.