NEWS
Tracy Morgan Angers GLAAD With Homophobic Standup Routine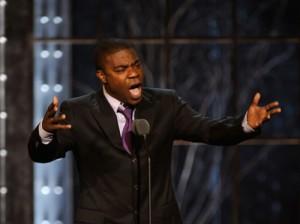 After news of Tracy Morgan's recent homophobic standup routine during his Nashville comedy show went viral, the fallout against the comedian has been severe. The Ryman Auditorium in Nashville — which hosted Tracy's show — has issued a statement, and GLADD is demanding an apology for the 30 Rock star's outrageously homophobic remarks.
"The Ryman Auditorium regrets that people were offended by statements made by Tracy Morgan during his June 3 appearance," the Nashville theater said in a statement, via TMZ, adding, "The Ryman does not control the content presented by people appearing on its stage, nor does it endorse any of the views of, or statements made by, such persons."
Article continues below advertisement
An audience member from Tracy's Nashville stand-up show turned to his Facebook page to express his surprise and disgust over Tracy's anti-gay slurs, in a note titled " "WHY I NO LONGER "LIKE" Tracy Morgan."
One of the most shocking statements from Tracy's rant, the audience member Kevin Rogers alleges, was when he talked about the possibility of his son being gay, saying he "better talk to me like a man and not in a gay voice or I'll pull out a knife and stab that little n**ger to death."
He reportedly ended with, "I don't "f*cking care if I piss off some gays, because if they can take a f*cking d**k up their ass ... they can take a f*cking joke."
TMZ reports that people were so offended by the "not funny material" that they booed the comedian and actually walked out.
The President of GLADD — the Gay and Lesbian Alliance Against Defamation — Jarrett Barrios told TMZ his organization is investigating the situation, and if the reports turn out to be true, "We call on him to remove these violently anti-gay remarks from his show and send a strong message that anti-gay violence is not something to joke about."
In 2009, Tracy sparked controversy when he caused his audience members to walk out of his show at Carnegie Hall after he said being gay was a "choice."
Tracy, or his camp, have yet to comment on his Nashville show.