NEWS
Tracy Morgan gets scary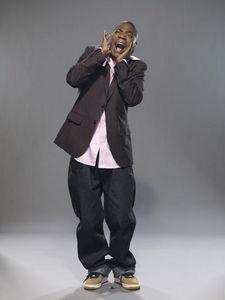 Tracy Morgan wants to scare you.
The 30 Rock star is moonlighting as host of SciFi Network's hidden camera series, Scare Tactics, where unsuspecting people are put into hilariously spooky situations and caught on camera.
While talking to the Saturday Night Live alum may seem like a scary proposition in itself, I took the plunge. And everything turned out pretty darn funny.
What are you bringing to the show as the new host?
Article continues below advertisement
I bring Tracy Morgan, the personality. Hopefully because of my Saturday Night Live prominence, people will see me and they will want to watch the show, and it will be frightening and they'll get a kick out of seeing other people surprised.
And being scared?
People love to see other people get scared. It's the funniest thing in the world, especially if it's not happening to you!
Do you have a favorite skit from this upcoming season?
I don't have a favorite because all of them are funny. It's just so funny to see people just having to act naturally towards certain situations that are so far out, and then for them to see and realize they've been on Scare Tactics. It's just great. It's like when I was on Punk'd, ya know? It was for real in the moment, but when I realized I was being punked by Ashton Kutcher, it was wonderful.
You star on 30 Rock with Tina Fey. What's it like working with her?
Article continues below advertisement
Beside the fact that she's gorgeous and hot? She's very very smart and very very funny and I thank God that she was the one that picked me to be on her TV show with her. She's like a sister to me.
You're celebrating your fortieth birthday this year. Any special plans?
It's a milestone for me. I'm just going to spend it with my friends, and my family and my loved ones, and just look forward to 41.
Have you learned anything in your 30s that you'll take in to your 40s?
Forget about the 20s. Stay looking forward. I look forward to my grandkids graduating from high school and my granddaughter playing with her bubbles. Who knows when that time will come, but I just look forward to it.
You don't have grandchildren yet, do you?
No way. My children are still virgins. I'm too young to be a grandparent. But not in the ghetto. My aunt is 20-years-old and she's a grandparent! (laughs)
Scare Tactics returns Wednesday, July 9 at 10 p.m. on SciFi.