NEWS
Tracy Morgan Offends Mentally Disabled Community Post-Apology For Homophobic Rant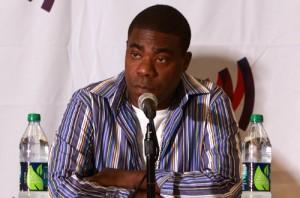 Tracy Morgan might be gearing up for another, big public apology. The comedian — who has spent the last couple of weeks apologizing for his homophobic rant during this stand-up performance earlier this month, in which he said he would "stab" his son if he acted gay — reportedly went too far again during his most recent stand-up routine.
"Don't ever mess with women who have retarded kids," Tracy said at one of his recent comedy shows, according to The New York Times. "Them young retarded males is strong. They're strong like chimps."
Article continues below advertisement
And Tracy didn't stop there. The 30 Rock star allegedly ended his routine with an anecdote about a teen fling with a girl he called a "a cripple" with a prosthetic arm.
Tracy reportedly had a sincere moment during his routine, addressing the crowd with a heartfelt message.
"I love you all so much," he said, via the NYT. "Did I tell you that tonight? I've been in trouble lately, and this was big for me that you all came out. I believe gay, straight, anybody, everybody's supposed to be happy in this world, man."
But despite his sincerity, the 42-year-old comedian seems to be asking for more fallout, as he still targeted the mentally disabled community with his cruel/ not-so-funny remarks.
After an audience member witnessed Tracy'swith a Facebook note, fallout against Tracy exploded on the Internet, prompting gay advocacy groups like GLAAD, as well as NBC and 30 Rock stars Tina Fey and Alec Baldwin to express their disappointment in the comic.
Ever since, Tracy has been very aggressive with his efforts to apologize by meeting with gay youth in New York City.
Do you think Tracy will find himself making a public apology again? Sound off in the comments.