NEWS
Tracy Morgan's Apartment Catches Fire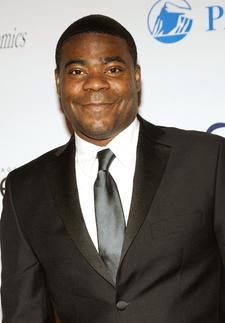 UPDATE: Actress Sherri Shepard, who plays Tracy's wife on 30 Rock and who also happens to live below her TV husband in real life talked to OK! about having to vacate her apartment this morning before heading to work on The View.
Ironically,until she talked to OK!, she had no idea the fire was her co-star's fault.
"It was Tracy's apartment? I had to evacuate for Tracy?" she asked OK!. "You're kidding me. I didn't know that."
Article continues below advertisement
Sherri adds that her son is okay, but that her apartment is flooded and she's unsure of the extent of the damage.
"My son has lung issues, so I'm kind of concerned about that," she tells OK!. "But I'm not pissed, I'm just glad everyone is okay. And I've got all my hair – all my wigs.
"I'm glad nobody got hurt," she adds. "And if any clothes of mine got messed up, I'm sure Tracy will pay for them."
Meanwhile, in a statement, Tracy tells OK! about the incident: "A fire broke out in my Manhattan apartment this morning, apparently starting with a lamp attached to my fish tank. The sprinklers promptly activated and the NYFDsic came by to make sure it was contained. Fortunately, the fire did not spread and no one in the building was injured – even the fish are okay. My thanks to the New York Fire Department for their quick action.
Article continues below advertisement
OK! was the first to break the news this morning when sources told OK! this morning that 30 Rock funnyman's apartment caught fire earlier today, causing extensive damage.
____________________________________
According to one insider, the incident, which occurred Wednesday morning, caused him to lose most if not all of the contents of his apartment in the swanky Trump Place building on NYC's Riverside Boulevard.
Most damage to the apartment was caused by the sprinklers that went off when a fish tank caught on fire. Making matter worse, says the source, the sprinklers were also triggered in neighboring apartments, though it's still unclear as to the total extent of the damage.
Eyewitnesses on the scene say the FDNY came on the scene quickly and left just as fast, although they returned later to take pictures, most likely for insurance reasons. While the number of emergency vehicles that responded to the scene is still unclear, a fellow resident tells OK! that there were as many as 20 fire trucks and medical vehicles at the site.
Tracy's assistants were also on hand to cart some of his belongings out of the damaged apartment.