NEWS
Tracy Morgan's Latest Blunder is "Very Hurtful to People With Developmental Disabilities"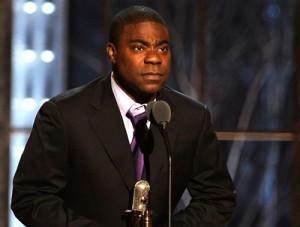 Tracy Morgan has offended another community with his latest insensitive standup routine. The Arc, an organization for people with intellectual and developmental disabilities, have demanded an apology from the comic who compared young boys with mental handicaps to "chimps."
"This quote is far too offensive to be excused as comedy and it is very hurtful to people with intellectual and developmental disabilities and their families," Peter Berns, CEO of The Arc, said via Radar Online. "Mr. Morgan has an incredibly powerful platform from which to fix this, and if he's learned anything in the last few weeks, he can't bomb this apology."
Article continues below advertisement
The 30 Rock star's latest blunder comes after he spent weeks apologizing to the LGBT community and meeting with Glaad for homophobic remarks he made during a comedy show in Nashville, where he went as far as saying he would "stab" his son if he were gay.
At his most recent show, Tracy made offensive remarks to the mentally disabled community.
"Don't ever mess with women who have retarded kids," Tracy, 42, said at one of his recent comedy shows, according to The New York Times. "Them young retarded males is strong. They're strong like chimps."
And Tracy didn't stop there. The comedian allegedly ended his routine with an anecdote about a teen fling with a girl he called a "a cripple" with a prosthetic arm.
He has yet to address the issue.