NEWS
Transformers 3: Megan Fox and Shia LaBeouf Back in 2011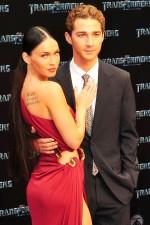 You might have thought every last drop had been squeezed out of a plot line featuring giant talking trucks, but Transformers director Michael Bay disagrees. He's confirmed that the saga of the admirable Autobots and the dastardly Decepticons will rise again.
The third in the movie series starring Shia LaBeouf, 23, as young hero Sam Witwicky, and Megan Fox, 23, playing his sexy love interest Mikaela Banes, will be released on July 1, 2011.
Article continues below advertisement
The first two movies, Transformers and Transformers: Revenge of the Fallen grossed more than $1.5 billion worldwide.
Director Michael announced on his Web site on Oct. 1, "Well, it's official: We have a great 'Transformers 3' story. Today is Day One."
With his tongue firmly in cheek he added a postscript, "Megan Fox, welcome back. I promise no alien robots will harm you in any way during the production of this motion picture.
"Please consult your Physician when working under my direction because some side effects can occur, such as mild dizziness, intense nausea, suicidal tendencies, depression, minor chest hair growth, random internal hemorrhaging and inability to sleep.
"As some directors may be hazardous to your health, please consult your Doctor to determine if this is right for you."